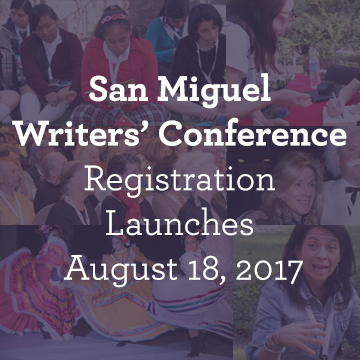 Writers' Conference Registration Launches Aug 18

We're excited to announce the San Miguel Writers' Conference (Feb 14-18, 2018) will launch registration and announce keynote speakers on August 18th, 2017. Visit our website on August 18th to find out all of our keynote speakers, panels, and new workshops. Plus, we will be offering a limited amount of Early Bard specials (40 of each package type) for a limited time (offer ends September 8, 2017). Register early for a Whole Enchilada Package, Full Conference Package, or Basic Conference Package and see all the keynote speakers, panels, storytelling performance, and much more at a significant discount.
This year we will be offering over 80 concurrent workshops, 18 intensive workshops, 8 keynote speakers, 5 panels, all new excursions, post-conference workshops, and much more.