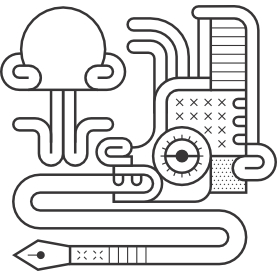 By artist/designer Martí Riba
A settlement originally named "Izcuinapan" (Náhualtl for Dog's River) by the native indigenous people, San Miguel was founded near a spring of water called "El Chorro." The crystalline waters were discovered by the thirsty, working dogs of Fray Bernardo de Cossin during his expedition. This new-found spring supplied the growing city with water for many years and is still the site of flowing waters for bathing and washing.
Our logo is based on this beautiful legend about San Miguel's founding. A dog drawn in prehispanic style is shown drinking the water from El Chorro; this water gave rise to one of the most stunning places on Earth. The dog represents an ancient animal that turns water, wisdom and inspiration into beautiful words, phrases and books. The symbol unites San Miguel with the celebraton of the written word that has taken place here for decades and centuries.