KEYNOTE ADDRESS:
"The Challenges and Joys of Adaptation"
Emma Donoghue has not only written in many genres (history, biography, fiction, drama for radio, stage and film) but has often retold her stories in different forms, most recently adapting her bestselling novel ROOM into an Oscar-winning film and a stage play. She will discuss the particular demands and advantages of each form, as well as the process of collaboration with others in re-imagining her work for theatre and screen, and the rather different task of adapting the writings of others.
BIOGRAPHY: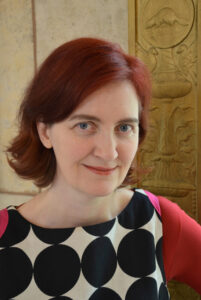 Emma Donoghue wrote the screenplay for the 2015 feature film Room, which was nominated for four Academy Awards including one for Best Adapted Screenplay. The film, which also nominated for a Golden Globe and Bafta Award, was adapted from her novel of the same name, which was shortlisted for the Man Booker and Orange Prizes and has sold over two million copies. Her most recent novel The Wonder, about a "fasting girl" in 1850s Ireland, was shortlisted for Ireland's Kerry Group Novel of the Year as well as Canada's Giller Prize, and she is currently adapting it for the screen. She is also adapting her novel, Frog Music, a literary mystery inspired by a murder in 1870s San Francisco, into a feature film for Monumental Pictures.
Her numerous novels have earned international and literary recognition. Her first novel, Stir Fry, a contemporary coming of age novel about a young Irish woman discovering her sexuality, was a finalist for the Lambda Literary Award in 1994. Her second, Hood, won the 1997 American Library Association's Gay, Lesbian and Bisexual Award for Literature (now known as the Stonewall Award for Literature.) She has authored several other works of historical fiction, all based on true life events.
Donoghue was born in Dublin, Ireland and earned a Ph.D. in Literature from the University of Cambridge. Her thesis was on friendship between men and women in 18th century fiction. She's been earning a living as a writer since the tender age of 23. She now lives in Ontario, Canada with her partner and son and daughter.