How Will It Smash? By Becky Kaiser

How Will It Smash? (Excerpt)
My heart exploded
I thought something in my dream had detonated it and BOOM, it filled up with blood and electricity and busted. Veins writhing and spitting like loose hoses, pieces of muscle wall wedged between my ribs. But when I sat up in bed, it was bumping away. Plus, I could see flames outside my window. They made the cheap purple curtain look neon pink. I got up and pulled it aside. The electrical pole five feet away from my apartment window had been transformed into an extra-large birthday candle. The kind that sparkles and crackles and can't be blown out.
How explosions work
I got my phone and huddled in the corner on the other end of my apartment. A thing I know about explosions is that there are usually two. When a girl I knew in high school drunk drove her mom's Audi into a retaining wall, they said it wasn't the first explosion, the one from the impact, that killed her, it was the second. The slow leak. But how could they tell?? I pictured the medical examiner dissecting a charred piece of skin, dictating, "This skin has experienced multiple explosions."
Kinds of emergencies
I called 911. I think you're actually supposed to call the electrical company, but I didn't know the number. The 911 lady asked me what kind of emergency and I said "fire."
Lesser of two evils
My co-worker at the daycare center said I could stay with her, but I declined because she had reptiles as pets. I'd rather wake up in a pool of my own sweat than inside a lizard's belly. Thanks but no thanks.
Preparations
Jero at the gas station down the road knows me and let me put a few jugs of water in their cooler and then take them home so my stuff wouldn't spoil. I put them in the freezer with all my food, which wasn't much, and all my drink, which was a lot.
"How is Cy?" he asked. He loved Cy. Everyone loved Cy. Every time we left my mom's house she always called me an hour later and said, "What a doll."
"He's fine," I said.
Love in the Time of Powerlessness
It was too hot to sleep in bed. I tried to sleep standing up so my body wouldn't touch anything, but I couldn't get comfortable. Finally, I took a jug out of the freezer and snuggled it on the floor like a boyfriend. We woke up in a pool of our own sweat.
The glory of wind
The power came back on the third day. I was getting ready for work in slow motion, and when the ceiling fan starting moving I wanted to hang on to a blade and twirl with it.
Tomatoes in the freezer
At work, I remembered that I'd left a bag of tomatoes in the freezer. I texted my mom and asked if they'd be normal when they thawed and she replied, probably just toss them. I thought of the olden days when audiences hurled tomatoes instead of booing when they were unhappy and how I'd like to hurl a tomato.
What neighbors are for
When I came home, White Teeth was sitting with his apartment door open, facing the central courtyard of withering trees and shared lawn furniture. White Teeth was a poet, and sometimes he slipped bad mix CDs under my door. Other times, bad poems.
"The power is back on," I told him.
"I know, darling, I know," he said, smiling.
"I left some tomatoes in my freezer," I told him. "I think I'm going to see what happens when I smash them. Want to watch?"
"Groovy," he said.
Miss Jo
Joanne was just coming out of her apartment.
"Miss Jo," White Teeth said. "Kate and I are out here and we're busting up a frozen tomato."
Joanne was blind. "How neat," she said.
"How should I smash it?" I asked them.
We decided to throw it against the wall, in between Joanne's apartment door and the utility room.
How it smashed
"How did it smash?" Joanne asked us.
"A big gnarly chunk flew off, but it's mostly still one piece," White Teeth said.
We let Joanne touch it.
We threw it against the wall again, then Joanne let us use her blind stick and we launched it over the gate. It was mushy by then and separated into goo and seeds mid-air. It reminded me of the disaster I shared my birthday with. My dad watched it in the hospital waiting room while I tore  my way out of my mother. The Challenger was in the air for seventy-three seconds before it exploded, which, according to my mom is about how long her labor was. "I didn't even have to push," she said.
My dad told my mom about the space shuttle in her hospital room. "Well, at least no one has to worry now," he explained, holding me for the first time. "It's all over."
After the tomato was done for, we all returned to our apartments and felt good.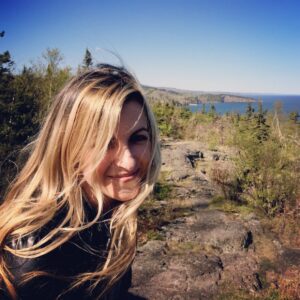 Becky Kaiser received an MFA in Fiction from Louisiana State University. Her work has been published in PANK, South Dakota Review, and Liminalities and has been a finalist in contests for Mid-American Review, Masters Review, Florida Review, Greywolf Press, and Press 53. She's attended residencies in Vermont and Mexico, and currently lives in snowy St. Paul, Minnesota. She works as a Describer/Narrator for blind and low-vision television and movie audiences and is at work on a novel.