KEYNOTE ADDRESS:
"Reverse Osmosis"
The first time I visited Mexico, I got there by swimming naked across the Rio Grande. A century earlier, my great grandfather left Indiana to seek his fortune there, found it in Mexico City, and stayed. This is why his daughter, my grandmother, spoke fluent Spanish, and why she was on hand for Frida Kahlo's bed-ridden gallery opening in 1953. It is also how she met my grandfather, George Vaillant, author of the first comprehensive, English-language archaeological history of the Aztec nation; and it's why my father's first language was colloquial Mexican Spanish, learned from his nurse while his parents were away, doing excavations. In my talk, I will explore this history and how, even in faraway New England, it infused me with a deep, almost osmotic affinity for Mexico that I did not know I had until I moved there with my family for a year in 2009.
BIOGRAPHY: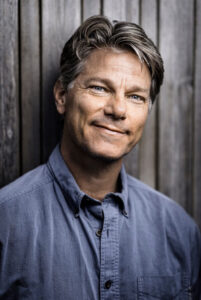 John Vaillant's work has appeared in The New Yorker, The Atlantic, National Geographic, and Outside, among others. His first book, The Golden Spruce, vividly recounts the true story of a shocking act of protest when a Pacific Northwest activist felled the largest golden spruce in the world. It went on to become a #1 national bestseller, won the Governor General's Award for Non-Fiction in Canada the Pearson Writer's Trust Non-Fiction Award and the Roderick Haig Brown Regional Prize. His second book, The Tiger, another #1 Canadian bestseller, is a mixture of investigative journalism, social history, geography and natural writing. It was a CBC Radio's "Canada Reads" selection, a Globe and Mail Best Book, and won numerous awards.
Vaillant's latest book, The Jaguar's Children, is a novel about an undocumented Mexican immigrant trapped inside the empty tank of a water truck that has been abandoned in the desert by smugglers. It was a shortlisted nominee for the 2015 Rogers Writers' Trust Fiction Prize and received glowing reviews from the New York Times and NPR.
Born in Cambridge, Massachusetts, Vaillant has a personal connection to Mexico through his family history, beginning with his great grandfather who sought and found his fortune in Mexico City. He currently lives in Vancouver, British Columbia.
• • •
John Vaillant will also be a panelist in the Co-Cultural Panel: Our Cultures, Ourselves.