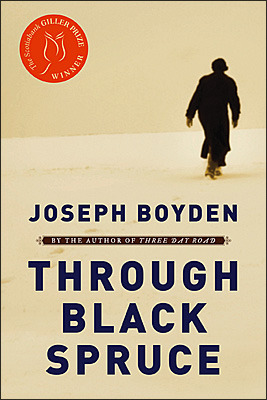 Join The Community-Wide Big Read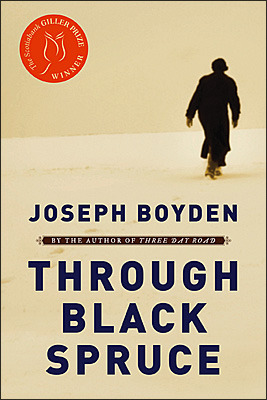 Everyone in town is invited to participate in the annual San Miguel Big Read. This year, the selected book is Through Black Spruce by Joseph Boyden, who will be one of the keynote speakers at the February 2018 San Miguel Writers' Conference. Boyden's novel is a voyage to an area of the world unknown to many of us — the wilderness of northern Canada and what it means to live there in the First Nations culture.
To sign up to participate in a Big Read discussion group,  email Big Read chair, Carolynn Rafman at carolynn.rafman@gmail.com. Please tell Carolynn whether you prefer to meet in the morning, afternoon, or evening; the colonia where you live; and if you would like to host a group in your home.
As a new feature of the Big Read this year, everyone who participates in a Big Read group will be invited to an exclusive reception with Boyden on Sunday, February 11 at a very special location! In addition, two pre-Conference programs, planned by Big Read Co-Chair Mary Katherine Wainwright, a film and a panel, will add more information for Big Read conversations and discussions. See details below.
Through Black Spruce is available for purchase at all Literary Sala and Big Read events, in the Tesoros store in the Biblioteca, as well as from both Kindle and Audible.
Big Read Event Details:
Angry Inuk – January 22 at 1:00 and at 7:00 PM at the Teatro Santa Ana (Relox #50). The 2016 feature-length documentary film, Angry Inuk, will be shown. This event is free of charge and open to the public. January 22 at 1:00 and at 7:00 PM.
Panel Discussion – January 29 at 5:00 PM at the Hotel Aldea (Ancha de San Antonio #15).  The panel discussion will focus on the documentary film, Angry Inuk. We will also discuss issues surrounding cultural appropriation. We will also discuss the author Joseph Boyden and his novel, Through Black Spruce. Admission $100 pesos; $50 pesos for Literary Sala members. Note: The San Miguel Big Read is aware that Alethea Arnaquq-Baril's film and Joseph Boyden's book are not related. By screening Angry Inuk it is the Big Read's intention to bring awareness about another group of indigenous people to the local community and to aid in a discussion about how to survive & maintain cultural integrity within an encroaching western culture.
Reception – Sunday, February 11 at 4:00 PM at a very special location – We will have a reception where Big Read participants can meet Joseph Boyden and discuss his novel.
Joseph Boyden will deliver a  keynote address during the San Miguel Writers' Conference on: Saturday, February 17, 2018 in the Hotel Real de Minas Ballroom from 6:30 to 8:00 pm.
Keynote tickets can be purchased online or at any Literary Sala event.