KEYNOTE ADDRESS:
"Creation Myth: One Writer's Life in Three Simple Steps"
In this three-act talk, Canadian author Joseph Boyden will candidly discuss his writing and activism, past, present, and future.
BIOGRAPHY: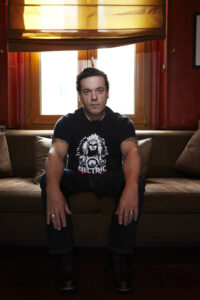 Joseph Boyden is the author of three award-winning novels. His is known for writing about First Nations Culture. His first novel, Three Day Road, a story of two Cree soldiers serving in the Canadian military during World War I, was inspired by the experiences of Ojibwa Francis Pegahmagabow, the legendary First World War sniper. It won numerous awards and was nominated for the Governor General's Award. His second novel, Through Black Spruce, follows the story of Will, son of one of the characters in Three Day Road. The Orenda, published in 2013 was his third novel in the Bird Family Trilogy and continued his exploration of the historical and contemporary experiences of First Nations peoples of Northern Ontario.
Born in Toronto, Boyden was made a member of the Order of Canada in 2015. He has taught at the Aboriginal Student Program at Northern College and was a lecturer at the University of British Columbia's Creative Writing Program. He currently lives in New Orleans with his wife, where they are both writers in residence.