Libros Para Todos And Juan Villoro
Libros para Todos is a San Miguel Literary Sala outreach program.  The program strives to promote reading and literacy by teaching children to read, offering books to San Miguel's rural communities, and bringing authors to meet and inspire children.
Libros Para Todos And Juan Villoro By Susan Neulist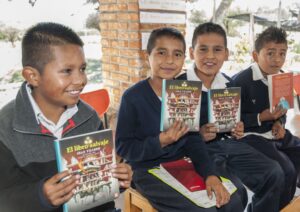 This project started in a Spanish conversation class in 2013 with the idea of starting a bilingual reading project. Having read Cajas de Carton by author Francisco Jimenez in class, we decided to invite him to San Miguel for a weekend of talks with children and adults. Quickly it grew to become a reading project for children. In that first year 250 books were distributed to children. The second year brought author Viola Canales of El Gusano de Tequila and 350 children enjoyed this book and met the author as she visited the various participating communities.
2015 brought well known author Juan Villoro (a keynote speaker at this year's Writer's Conference as well) who was able to touch the heart of over 550 children in SMA and rural communities. He visited three communities over several days in November and spoke about his magical book El Libro Salvaje, a children's book with a strong message about books and reading for all ages. This 2015 program included a teacher's training program before the book distribution and each child received a notebook and pencil – to use to write or draw while reading their book.
Looking into the eyes of each of these many children, Juan Villoro wrote their name and signed each book with "Su amigo, Juan Villoro". For the Libros para Todos team that witnessed this, for Juan Villoro and for the many friends who support this program – it was a life changing experience. I can assure you that each child that attended left with the joy of reading and a realization that though they may not be able to travel due to minimal resources through reading and with a good imagination they can sprout wings and fly.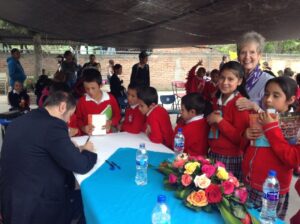 The communities visited in 2015 were Cruz del Palmar, Los Ricos, and El Huizachal. Children from La Cuadrilla, El Tigre, Estancia de San Antonio, San Miguel Viejo (Ojalá-Niños), La Palma, and El Salitrillo were transported to these events.
For 2016, Libros para Todos has chosen author Francisco Hinojosa and his book La Fórmula del Doctor Funes. Hinojosa is probably best known for his many children's stories but he is also a poet, playwright, editor, essayist and short story writer with more adult themes. He is known for his comic and non-conformist style that not only make the reader laugh but also convey a level of social commentary. Hinojosa is perhaps not a typical children's storyteller. In an interview, he said he believes that the goal of a writer should not be to educate young readers, and think much about the literary world. On the contrary, he said, "a book should serve to be enjoyed."
Photos by Barry Weiss and Susan Neulist