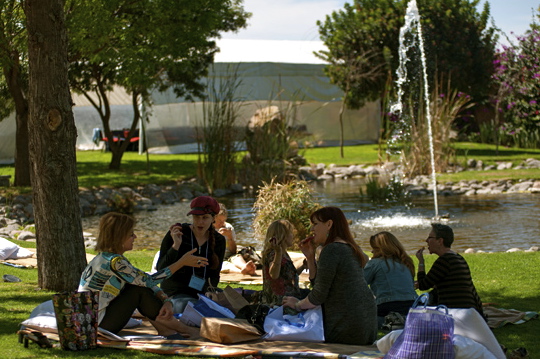 The Writers' Conference of San Miguel de Allende is pleased to announce the return of its talented chef, Kajsa Akerblom Litzen.
For the last two years, as many will recall, Kajsa provided writers with a week of delicious and nourishing meals, carefully prepared and designed to appeal to a health-conscious crowd. Her cheerful presence in the kitchen earned her the respect of the entire staff at the Hotel Real de Minas. This translated into meals that exceeded all expectations and were thoroughly enjoyed by last year's conference participants.
Kajsa's cooking career began early. At the age of four, she joined her grandmother, Ingrid, in the kitchen. Following that trajectory, she attended The Stockholm Hotel and Restaurant School, and did her three-month stage at Concorde La Fayette in Montparnasse, Paris. By the time she was twenty-two, she was ready to open the first of two restaurants, Café Sasta, and later, Glashuset (that's Glasshouse, in English), overlooking the Stockholm harbour.
Combining her love of travel with her passion to be in the kitchen, she next worked aboard private yachts that sailed through the Nordic Seas, along the Mediterranean coastline, and down the east coast of the United States.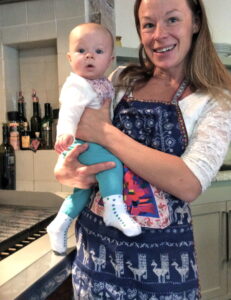 Five years ago, it was our extreme fortune to welcome Kajsa and her husband, Anders, to San Miguel de Allende. Together they own two restaurants in town, Tapas San Miguel and Bistro Mi Casa. If all this isn't enough, Kajsa somehow finds time to run a catering company called Dos Suecos (Two Swedes).
If you visit her in any of her restaurants, you will be treated to the sight of little Inez Flor de Campo, born at the end of August, apprenticing already in her baby backpack, cradled against her mother, Kajsa.
Welcome to a world of love and fine dining, sweet Inez!