KEYNOTE ADDRESS:
"Capturing the 'I' in Fiction and Nonfiction"
As both a novelist whose protagonists speak in the first person and an editor of autobiographical essays written by my students at an American women's prison, I am focused almost exclusively in the "I" of the story. My talk will focus on how the main character of my novels – flawed people laboring to become better people – develop in my imagination and on the page.
A long-time volunteer at Connecticut's York Prison, I facilitate a writing workshop from which three anthologies have been published. My talk will also examine the challenges and benefits of teaching and editing the work of women who are much more than just the crimes of which they have been convicted.
BIOGRAPHY: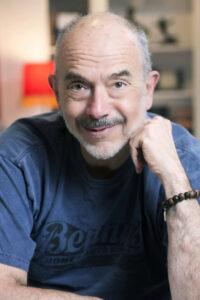 Wally Lamb is the author of six New York Times best-selling novels: I'll Take You There, We Are Water, Wishin' and Hopin', The Hour I First Believed, I Know This Much is True, and She's Come Undone, which was a 1992 "Top Ten" Book of the Year selection in People magazine and a finalist for the Los Angeles Times Book Award for Best First Novel of 1992. His books have twice been selected for Oprah's Book Club.
In his latest novel, I'll Take You There, published in 2016, Lamb weaves an evocative, deeply affecting tapestry of one Baby Boomer's life—Felix Funicello, introduced in Wishin' and Hopin'—and the trio of unforgettable women who have changed it, in this radiant homage to the resiliency, strength, and power of women. The audio dramatization features an all-star cast, including Kathleen Turner.
Lamb is also the editor of the nonfiction anthologies Couldn't Keep It to Myself: Testimonies from Our Imprisoned Sisters and I'll Fly Away, collections of autobiographical essays, which evolved from a writing workshop, he facilitates at Connecticut's York Correctional Institute. He has served as a Department of Corrections volunteer at York for 17 years, and his work there was the focus of a 2004 segment on CBS-TV's Sixty Minutes.
Honors for Lamb include a National Endowment for the Arts grant, the Connecticut Center for the Book's Lifetime Achievement Award, the Connecticut Bar Association's Distinguished Public Service Award, the Barnes and Noble "Writers for Writers" Award, the Connecticut Governor's Arts Award, The National Institute of Business/Apple Computers "Thanks To Teachers" award, and the 2010 Arts and Letters award from the YMCA of New York City. He has received Distinguished Alumni awards from Vermont College and the University of Connecticut and was the 1999 recipient of the New England Book Award for fiction. I Know This Much Is True won the Friends of the Library USA Readers' Choice Award for best novel of 1998, the result of a national poll, and the Kenneth Johnson Memorial Book Award, which honored the novel's contribution to the anti-stigmatization of mental illness. I'll Fly Away was a 2008 Connecticut Book Award Winner for non-fiction.
A Connecticut native, Lamb holds Bachelors and Masters Degrees in teaching from the University of Connecticut and a Master of Fine Arts in Writing Degree from Vermont College. He and his wife Christine live in northeastern Connecticut and are the parents of three sons, Jared, Justin, and Teddy.